ANALISIS KETAHANAN TANAH DASAR FONDASI CANDI PRAMBANAN TERHADAP ANCAMAN LIKUIFAKSI BERDASAR SIMPLIFIED PROCEDURE
Abstract
ABSTRACT
Prambanan temple complex is geologically located above an active fault that stretches from the area of Prambanan, Piyungan, Pleret, Imogiri, and Pundong. This fault is often called the Opak fault. The re-active fault triggered by a magnitude 6.3 earthquake activity that rocked Yogyakarta on May 27, 2006. An earthquake is a natural disaster that can destroy soil structure in its path. One of damage to soil structure caused by the earthquake is liquefaction. This study aims to determine whether the condition of the subgrade foundation Prambanan secure against the threat of liquefaction.
This study uses a simplified procedure for estimating the liquefaction potential. Simplified procedure uses a comparison of two variables include seismic force in the soil layer called the cyclic stress ratio and capacity to withstand soil liquefaction is cyclic resistance ratio. The data used are N-SPT is in the court of Prambanan. Data recorded earthquakes that have occurred in Yogyakarta used is a version of USGS years 1957-2016.
The results of this study indicate that the value of Factor of Safety (FS)> 1.2 with the existing condition of ground water at a depth of -12.0 meters. It can be concluded that security conditions subgrade foundation Prambanan safe against liquefaction potential.
Keywords: Prambanan, liquefaction, Simplified Procedure.
ABSTRAK
Kompleks Candi Prambanan secara geologis berada di atas sesar aktif yang membentang dari wilayah Prambanan, Piyungan, Pleret, Imogiri, dan Pundong. Sesar ini sering disebut dengan patahan Opak. Sesar tersebut kembali aktif karena dipicu oleh aktivitas gempa bumi 6,3 SR yang mengguncang Yogyakarta pada 27 Mei 2006. Gempa bumi merupakan bencana alam yang dapat merusak struktur tanah yang dilaluinya. Salah satu kerusakan pada struktur tanah yang ditimbulkan oleh gempa bumi adalah likuifaksi. Penelitian ini bertujuan untuk mengetahui apakah kondisi tanah dasar fondasi Candi Prambanan aman terhadap ancaman likuifaksi.
Penelitian ini menggunakan simplified procedure untuk mengestimasi potensi likuifaksi. Simplified procedure menggunakan perbandingan dua variabel antara gaya seismik pada lapisan tanah yang disebut dengan cyclic stress ratio dan kapasitas tanah dalam menahan likuifaksi yaitu cyclic resistance ratio. Data yang digunakan adalah N-SPT yaitu di pelataran Candi Prambanan. Data gempa tercatat yang pernah terjadi di Yogyakarta digunakan adalah versi USGS tahun 1957 – 2016.
Hasil penelitian ini menunjukkan bahwa nilai Factor of Safety (FS) > 1,2 dengan kondisi eksisting muka air tanah pada kedalaman -12,0 meter. Hal ini dapat disimpulkan bahwa kondisi ketahanan tanah dasar fondasi Candi Prambanan aman terhadap potensi likuifaksi.
Kata Kunci : Candi Prambanan, Likuifaksi, Simplified Procedure
Downloads
Download data is not yet available.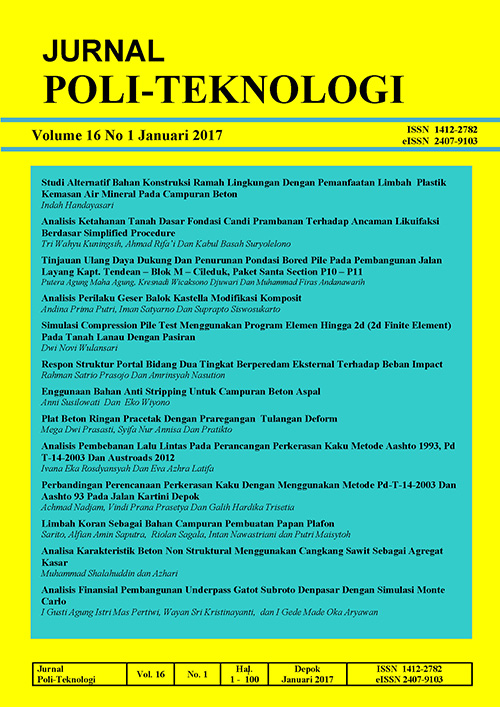 Downloads
How to Cite
Kuningsih, T. W., Rifa'i, A., & Suryolelono, K. B. (2017). ANALISIS KETAHANAN TANAH DASAR FONDASI CANDI PRAMBANAN TERHADAP ANCAMAN LIKUIFAKSI BERDASAR SIMPLIFIED PROCEDURE. Jurnal Poli-Teknologi, 16(1). https://doi.org/10.32722/pt.v16i1.866