VISUALISASI TERMAL ALAT PENUKAR KALOR SHELL AND TUBE
Abstract
Pada umumnya fenomena termal pada sistem alat penukar kalor tipe shell and tube dievaluasi menggunakan simulasi atau studi numerik. Padahal, karakteristik dari fenomena perpindahan panas konveksi-konduksi pada bagian dalam penukar kalor tipe shell and tube perlu divisualisasikan untuk menggambarkan fenomena sesungguhnya yang terjadi didalam strukturnya. Pada penelitian ini, visualisasi dari alat penukar kalor shell and tube dilakukan secara eksperimental. Alat penukar kalor shell and tube dipotong melintang untuk mengetahui profil distribusi termal melalui photothermal. Profil temperature hasil photothermal dibandingkan dengan hasil studi numerik. Perbedaan antara temperatur masuk shell dan masuk tube diset sebesar 30oC. Hasilnya menunjukan bahwa distribusi panas pada prototipe dan studi numerik mempunyai profil identik. Pengukuran perbedaan temperatur logaritmik menunjukan hasil antara studi eksperimental dan studi numerik memiliki selisih yang tidak signifikan.
Keywords: Thermal Visualisation, Shell and Tube, Heat Exchanger, Numerical Study
Downloads
Download data is not yet available.
References
Leong K.C., Toh K. C., Shell and tube heat exchanger design software for educational applications, International Journal Engineering, Vol. 14(3), 217-224. 1998.
Wang J., Bian H., Cao X., Ding M., Numerical performance analysis of a novel shell-and-tube oil cooler with wire-wound and crescent baffles, Applied Thermal Engineering, Vol. 184, 116298. 2021.
Widiawaty C.D., Gunadi G.G.R., Syuriadi A. Pemodelan dan Analisis Kinerja dengan Metode CFD. Politeknologi, Vol. 16 (3). 2017.
Ender O., Ilker T., Shell Side CFD Analysis of a Small Shell and tube Heat exchanger. Energy Conversion and Management, 1004-1014. 2010.
Widiawaty C.D., Analisis desain dan redesain alat penukar kalor tipe shell and tube dengan CFD. UI Depok. 2012.
Rahman H., Widiawaty C.D., Hamdi, Setijogiarto E.N., Sistem akuisisi data berbasis arduino pada rekayasa prototipe shell and tube heat exchanger, Politeknologi vol. 19(3), 2020.
Li H., Volker K., Visualization and determination of local heat transfer coecients in shell-and-tube heat exchangers for staggered tube arrangement by mass transfer measurements, Experimental Thermal and Fluid Science Vol. 17, 210-216, 1998.
Lin Y.H.,, Li G.C., Yang C.Y. An experimental observation of the effect offlow direction forevaporation heat transfer in plate heat exchanger, Applied Thermal Engineering, Vol. 88, 425-432. 2015.
Jin S., Hrnjak P.A., New method to simultaneously measure local heat transfer and visualize flow boiling in plate heat exchanger, International Journal of Heat and Mass Transfer, Vol. 113, 635–646. 2017.
Okbaz A., Pinarbas A., Olcay A.B., Aksoy M.H. An experimental, computational and flow visualization study on the air-side thermal and hydraulic performance of louvered fin and round tube heat exchangers, International Journal of Heat and Mass Transfer, Vol. 121, 153–169. 2018.
Delgado M., Hassan Y.A., Anand N.K., Experimental flow visualization study using particle image velocimetry in a helical coil steam generator with changing lateral pitch geometry International Journal of Heat and Mass Transfer, Vol. 133, 756-768, 2019.
Yang X., Yu J., Xiao T., Hu Z., He Y.L., Design and operating evaluation of a finned shell-and-tube thermal energy storage unit filled with metal foam, Applied Energy, Vol. 261, 114385, 2020
Yazici M.Y., Saglam M., Aydin O., Avcic M., Thermal Energy Storage Performance Of PCM/Graphite Matrix Composite In A Tube-In-Shell Geometry, Thermal Science and Engineering, 2021.
Selvam C. , Balaji T., Mohan L.D., Harish S., Convective heat transfer coefficient and pressure drop of water-ethylene glycol mixture with graphene nanoplatelets, Experimental Thermal and Fluid Science,Vol.80, 67-76, 2017.
Saputra I., Holid A., Aziz R., Pengujian dan perhitungan performance water cooled chiller tipe shell and tube kapasitas 0.14 TR pada aplikasi cold storage, Jurnal Teknologi, Vol. 6, (2) 2016.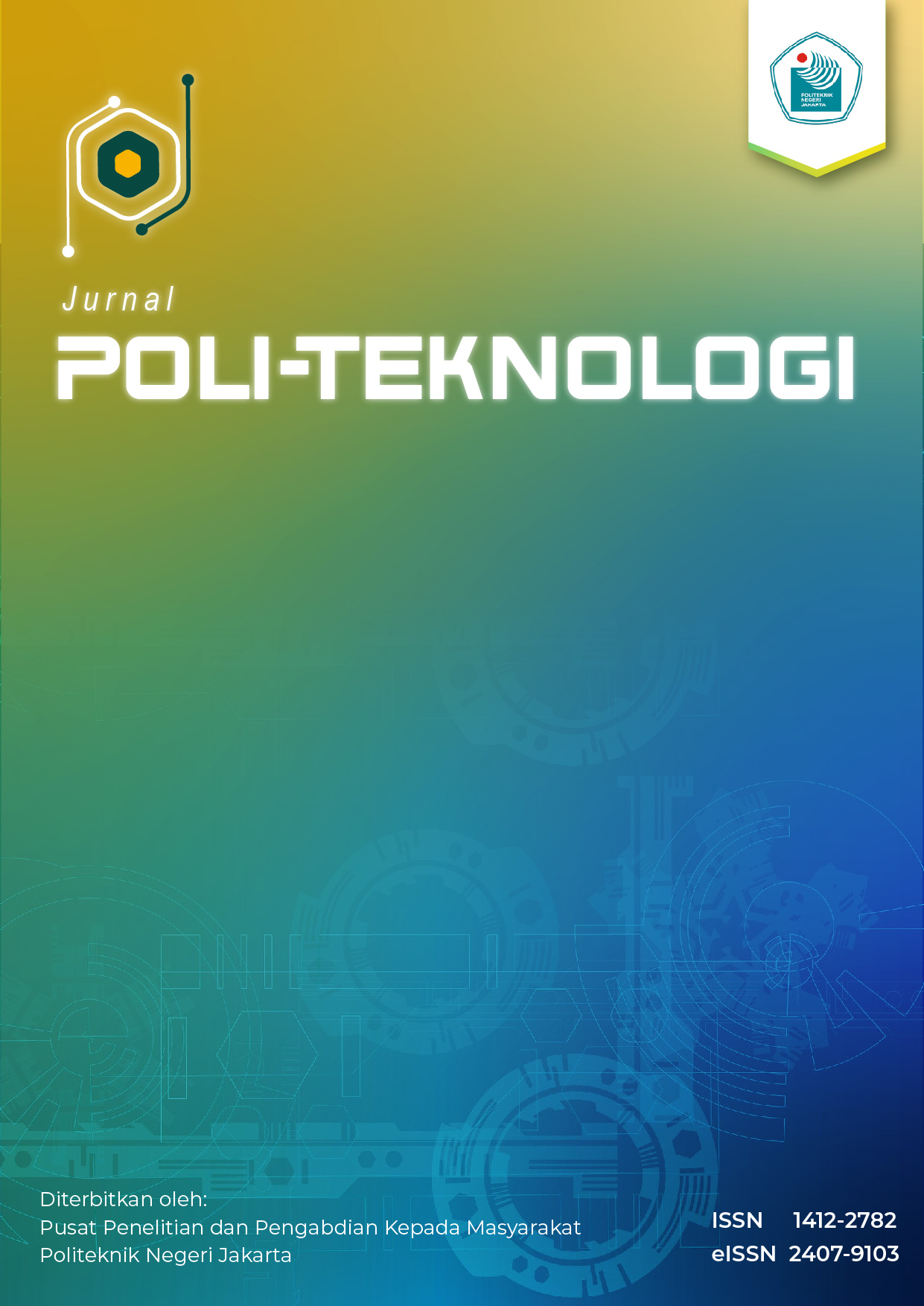 Downloads
How to Cite
Hamdi, H., Damis Widiawaty, C. ., sidi, R., udin, B., & Rahman, H. (2023). VISUALISASI TERMAL ALAT PENUKAR KALOR SHELL AND TUBE. Jurnal Poli-Teknologi, 22(1), 1–5. https://doi.org/10.32722/pt.v22i1.5329
License
Copyright (c) 2023 Hamdi, Candra Damis Widiawaty, Rosidi, Baharudin, Haolia Rahman (Author)
This work is licensed under a Creative Commons Attribution-ShareAlike 4.0 International License.