MESIN PENGERING GABAH MODEL BAK MENGGUNAKAN BAHAN BAKAR LPG
Abstract
Pengeringan konvensional yang mengandalkan sinar matahari memiliki sejumlah kelemahan. Dari segi produktivitas, pengeringan membutuhkan waktu yang lama, misalnya dua sampai tiga hari untuk hari yang cerah atau empat sampai lima hari untuk cuaca yang mendung. Perancangan mesin pengering gabah berbahan bakar gas (Liquefied Petroleum Gas) sebagai alternatif dalam menjemur gabah tidak tergantung pada kondisi cuaca, baik pada musim hujan maupun musim kemarau. Mesin pengering ini menggunakan pendistribusian udara panas dalam pipa yang berfungsi untuk menghilangkan penguapan air dari bahan yang dikeringkan. Sirkulasi udara panas di dalam ruangan sangat penting untuk menghasilkan drainase di dalam ruang pengering. Sirkulasi panas pada ruang pengering dapat berlangsung secara alami atau paksa dengan menggunakan kipas ke dalam tabung ekstruder. Blower sentrifugal berfungsi untuk menyedot atau membuang udara panas dalam suatu ruangan. Drum pemanas udara kering berfungsi sebagai alat pengering dimana uap panas ditempatkan ke dalam drum. Tungku memiliki fungsi sebagai alat untuk pemanasan. Dari penelitian ini dapat disimpulkan bahwa kelembapan pada ruang pengering 0,1875 kg air/kg udara, massa udara pengering 26,4915 kg, kebutuhan bahan bakar selama proses pengeringan adalah 3 kg bahan bakar, waktu yang diperlukan untuk pengeringan adalah 5,1623 - 11,6023 jam, suhu pengeringan gabah adalah 40oC, 45oC, dan 50oC. Tebal tumpukan gabah 100 mm dan 200 mm, massa gabah kering 50 kg dan 100 kg, dan efisiensi pengeringan gabah antara 52,67% - 58,41%.
Downloads
Download data is not yet available.
References
Kinsky, Roger.1989. Heat Engineering: An Introduction to Thermodynamics. 3rd Edition. Sydney: Mc Graw – Hill Book.
Brooker, D.B., F.W. Bakker- Arkema and C.W. Hall. 1974. Drying Cereal Grains. The Avi Publ. Co. Inc. Westport, USA.
Henderson, S.M. and R.L. Perry. 1976. Agricultural Process Engineering. The Avi Publ. Co. Inc. Westport, USA.
Geankopolis, Cristie. J, Transport Processes and Unit Operation, edisi ketiga 1993, Erlangga.
Holman, JP. Heat transfer pricciple, 1995, Erlangga.
J Saiful Amin, Jamaluddin, dan Muh. Rais. Agricultural technology education journal, Vol. 4 (2018) : S87-S104."Heat and mass transfer rates in the grain drying process using a tub type dryer", 2018.
Rizky Dwi Saputro, Bayu Aji Girawan, Joko Setia Pribadi, Fadillah, dan Mariyana. Journal of Surimi (Sustainable Research In Management of Agroindustry) Vol 01 No. 01 April (2021) / Saputro et al. https://doi.org/10.35970/surimi.v1i1.573. Design of the frame and heating pipe on the dryer. 2021.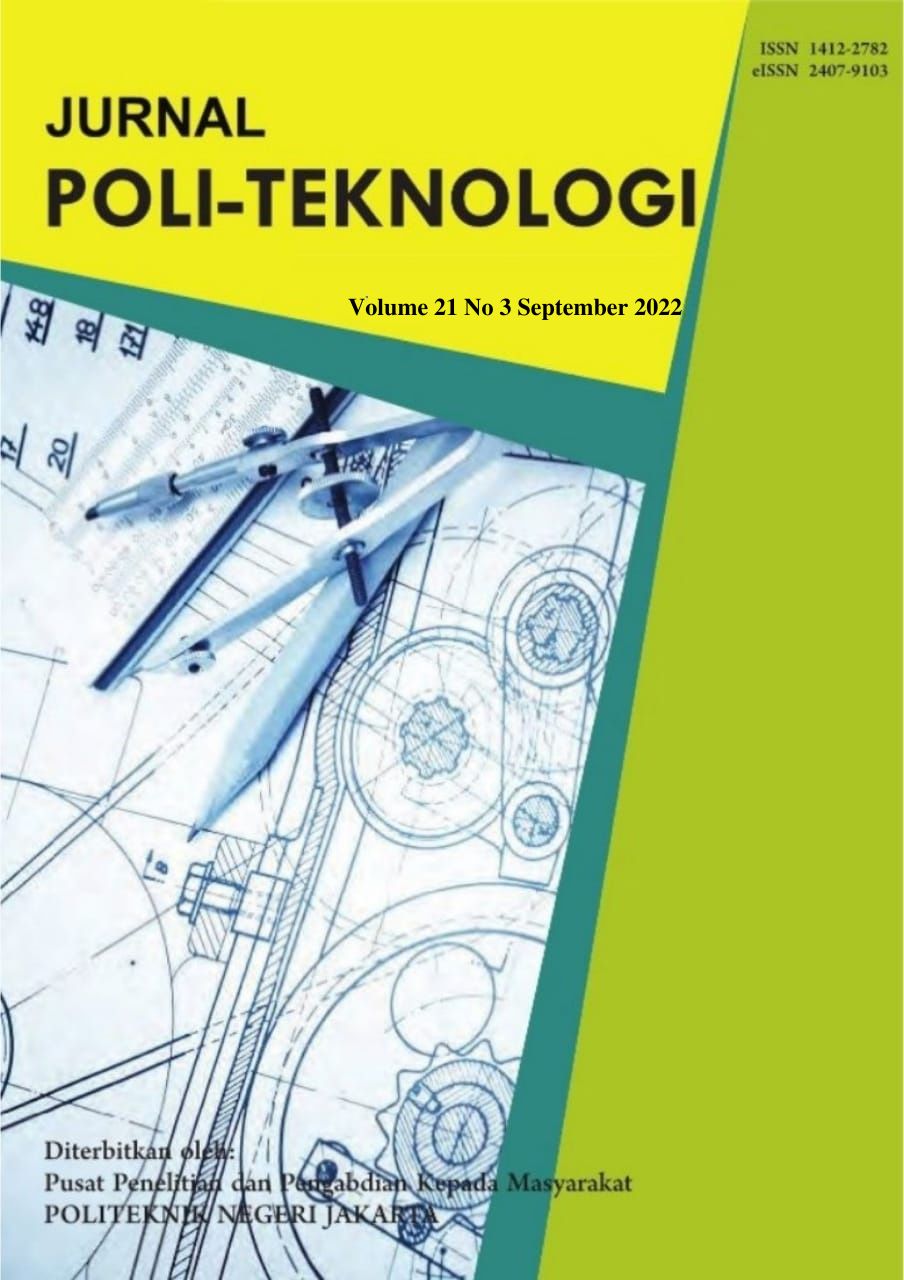 Downloads
How to Cite
Yulianto, R., kardi, S., udin, F., Rusli, M. S. ., & Mustofa K., D. (2022). MESIN PENGERING GABAH MODEL BAK MENGGUNAKAN BAHAN BAKAR LPG. Jurnal Poli-Teknologi, 21(3), 124–128. https://doi.org/10.32722/pt.v21i3.5081
License
Copyright (c) 2022 Rudy Yulianto, Sukardi, Faqihudin, Meika Syahbana Rusli, Dianta Mustofa K.
This work is licensed under a Creative Commons Attribution-ShareAlike 4.0 International License.