ANALISIS STABILITAS DINDING PENAHAN TANAH PADA PEMBANGUNAN JALAN INSPEKSI WADUK BRIGIF
Abstract
The construction of the inspection road located in the Brigif retention pond was directly crossed by the Krukut River. For safety and comfortable road traffic against sliding, it would need a redesign of the slope of road in order to produce a safety factor (SF) ≥ 1,25 for static condition and SF ≥ 1,10 for dynamic condition. Slope conditions are considered when High Water Level (HWL) and Low Water Level (LWL) conditions. This analysis was carried out by using of manually calculations and SLOPE/W. Both assessment using the Simplified Bishop Method. The results shows that when HWL in static conditions is 3,20 for manual calculations and 2,48 for SLOPE/W. Then, when HWL conditions with the dynamic condition is 1,88 for manual calculations and 1,72 for SLOPE/W. In LWL of static conditions is obtained of 3,13 for manual calculations and 2,58 for SLOPE/W. The results of the analysis of SF LWL with dynamic conditions is 2,20 for manual calculations and 1,79 for SLOPE/W. It can be concluded partially that the slope condition is stable. Furthermore, to prevent the scouring effect on retaining walls on the slopes is used gabion. Stability safety factor (SF) for overturning is 4,25 ≥ 2; for sliding is 1,59 ≥ 1,5; and for the bearing capacity is 825,31 kN/m ≥ 378 kN/m. Overall stability analysis is shown that the slope with the reinforced with gabion system is able to retain the overturning, sliding and bearing capacity.
Downloads
Download data is not yet available.
References
Badan Standarisasi Nasional, "Sni 8460-2017," Persyaratan Peranc. Geotek., vol. 8460, p. 2017, 2017.
B. M. Das, "Prinsip-prinsip Rekayasa Geoteknis," Erlangga, vol. 2, p. 239, 1993.
H. C. Hardiyatmo, Mekanika Tanah 2, Keenam. Yogyakarta: Gadjah Mada University Press, 2018.
M. Ramadhani, N. S. Sujandari, and Y. M. Purwana, "ANALISIS STABILITAS LERENG AKIBAT BEBAN GEMPA DENGAN PERKUATAN DINDING PENAHAN TANAH MENGGUNAKAN SOFTWARE GEOSLOPE DI DESA TAMBAKMERANG, GIRIMARTO, WONOGIRI Martha," matriks Tek. Sipil, pp. 195–201, 2016.
K. Lebao and K. F. Sulistyan, "Studi Perancangan Ulang Dinding Penahan Pada Hulu Bendung Kramat Kecamatan Tumpang Kabupaten Malang," J. Reka Buana, vol. 1, no. 1, pp. 19–25, 2016.
V. W. Sujarweni, Metodologi Penelitian. Yogyakarta: Pustaka Baru Press, 2014.
W. I. Manurung, I. B. Mochtar, and T. R. Satrya, "Analisis Hasil Perencanaan pada Pemodelan Stabilitas Timbunan dengan Program Bantu XSTABL, GEO5, GeoStudio-SLOPE/W, dan PLAXIS," J. Apl. Tek. Sipil, vol. 19, no. 3, p. 295, 2021, doi: 10.12962/j2579-891x.v19i3.9506.
Badan Standardisasi Nasional, "SNI 03-0090-1999 : Bronjong Kawat," Badan Stand. Nas., pp. 5–6, 1999.
T. W. Lambe and R. V Whitman, Soil Mechanics. New York: John WIley & Sons, 1969.
K. Terzaghi and R. B. Peck, Mekanika Tanah Dalam Praktek Rekayasa. Jakarta: Erlangga, 1987.
G. B. Look, Handbook of Geotechnical Investigation and Design Tables. London: Taylor & Francis Group, 2007.
E. Sutarman, Konsep dan Aplikasi Pengantar Teknik Sipil. Yogyakarta: ANDI, 2013.
E. Muhammad Rosihun, "Analisis Stabilitas Talud Bronjong Uin Sunan Kalijaga Yogyakarta," Anal. Stabilitas Talud Bronjong Uin Sunan Kalijaga Yogyakarta, vol. 7, no. 2, pp. 182–201, 2011.
B. Chairullah, "Analisa Daya Dukung Pondasi Dengan Metoda SPT, CPT, dan Mayerhof Pada Lokasi Rencana Konstruksi PLTU Nagan Raya Provinsi Aceh," Teras J., vol. 3, no. 1, 2016.
M. Febe and I. H. Sasongko, "Analisis Stabilitas Dinding Penahan Tanah Dengan Perkuatan Bronjong Pada Jalan Tol Ulujami – Pondok Ranji Ramp Bintaro Viaduct," Constr. Mater. J., vol. 1, no. 1, pp. 91–100, 2019, doi: 10.32722/cmj.v1i1.1333.
H. C. Hardiyatmo, Analisis dan Perancangan Fondasi I, II. Yogyakarta: Gadjah Mada University Press, 2011.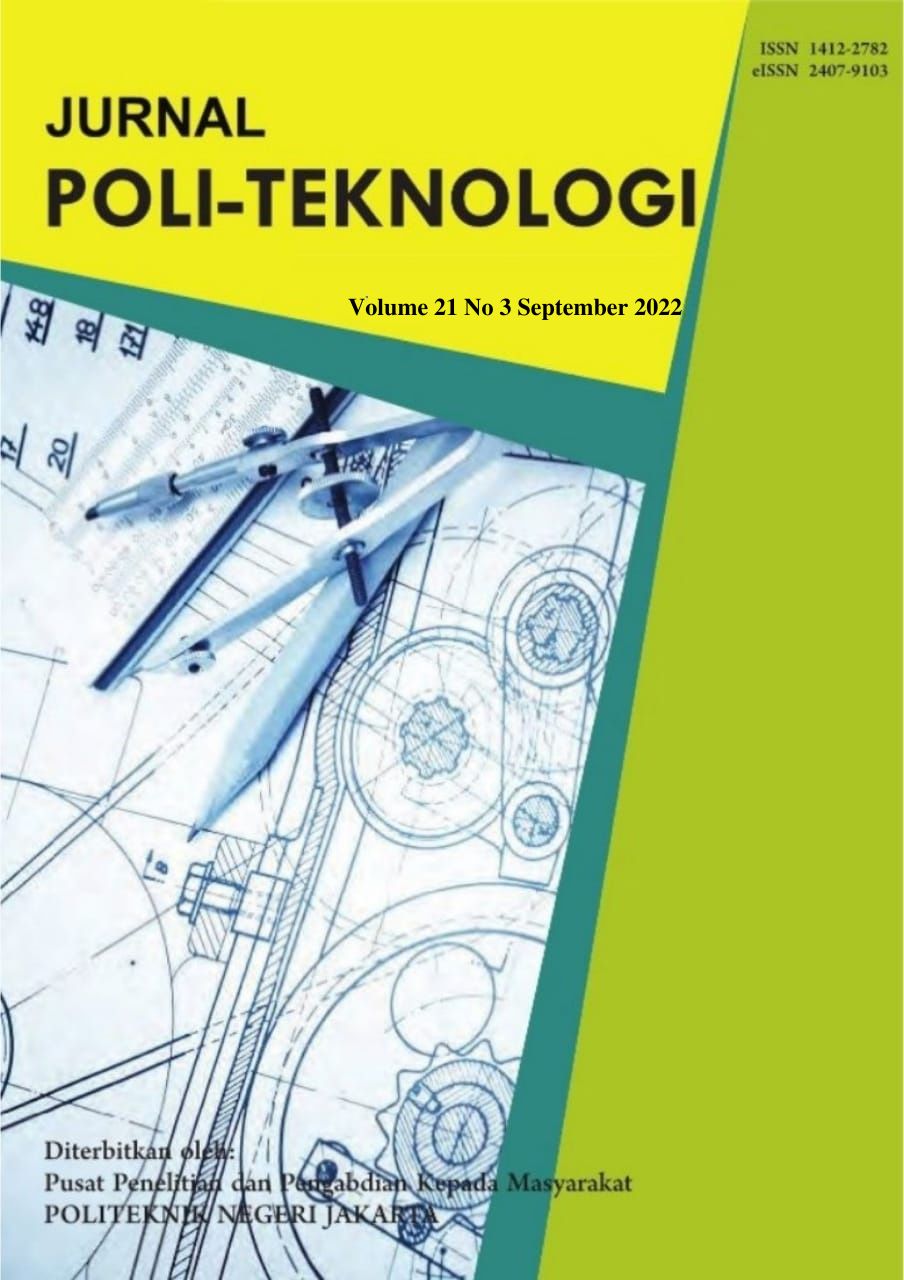 Downloads
How to Cite
Rifqi Aryadi, M. ., & *, Y. (2022). ANALISIS STABILITAS DINDING PENAHAN TANAH PADA PEMBANGUNAN JALAN INSPEKSI WADUK BRIGIF. Jurnal Poli-Teknologi, 21(3), 108–122. https://doi.org/10.32722/pt.v21i3.5043
License
Copyright (c) 2022 Muhammad Rifqi Aryadi Muhammad Rifqi Aryadi, Yelvi
This work is licensed under a Creative Commons Attribution-ShareAlike 4.0 International License.