ANALISA SIFAT FISIS AGREGAT LIMBAH BAHAN BAKAR BATU BARA DAN PEMANFAATANNYA UNTUK BAHAN BANGUNAN NON STRUKTUR
Abstract
Physicality tests conducted in this study are: filter analysis test, water content test, mud level test, type weight test and absorption and organic level test. For testing of non-structural building materials in the form of Bricks and Paving Blocks. The manufacture of brick test objects and paving blocks uses two aggregates, namely from coal fuel waste and from natural sand. The results of physicality testing illustrate that coal fuel waste aggregates have lighter content weight, coarse grain and have a large absorption than natural sand. Testing of sludge levels and the organic content of natural sand and coal waste aggregates both did not meet quality standards for fine aggregates. The results of the quality testing of paving blocks and bricks get a rebound reading that is close to the same. For dry weight and ssd weight paving blocks and bricks from coal fuel waste is lighter than natural sand.
Downloads
Download data is not yet available.
References
Badan Standar Nasional Indonesia. "Agregat Untuk Aduk Dan Beton, Cara Penentuan Besar Butir", SNI-03-1749, 1990
Badan Standar Nasional Indonesia, "Agregat Beton, Mutu dan Cara Uji", SNI-03-1750, 1990.
Badan Standar Nasional, "Metode Pengujian Kotoran Organik dalam Pasir untuk Campuran Mortar atau Beton", SNI-03-2816, 1992.
Badan Standar Nasional Indonesia, "Tata Cara Pembuatan Rencana Campuran Beton Normal", SNI-03-2834, 2000.
Badan Standar Nasional Indonesia, "Cara Uji Berat Jenis dan Penyerapan Agregat Halus", SNI-1970, 2008.
Jamalun Togobu, M. A, "Klas Mutu Paving Blok yang Menggunakan Buttom Ash Limbah Batu Bara sebagai Bahan Pengganti Aggregat Pasir", Journal Of Science And Engineering, 2019.
Hadi Winarno, dkk, "Pemanfaatan Limbah Fly Ash dan Bottom Ash dari PLTU Sumsel-5", Jurnal Teknika ISSN: 2085-0859, 2019.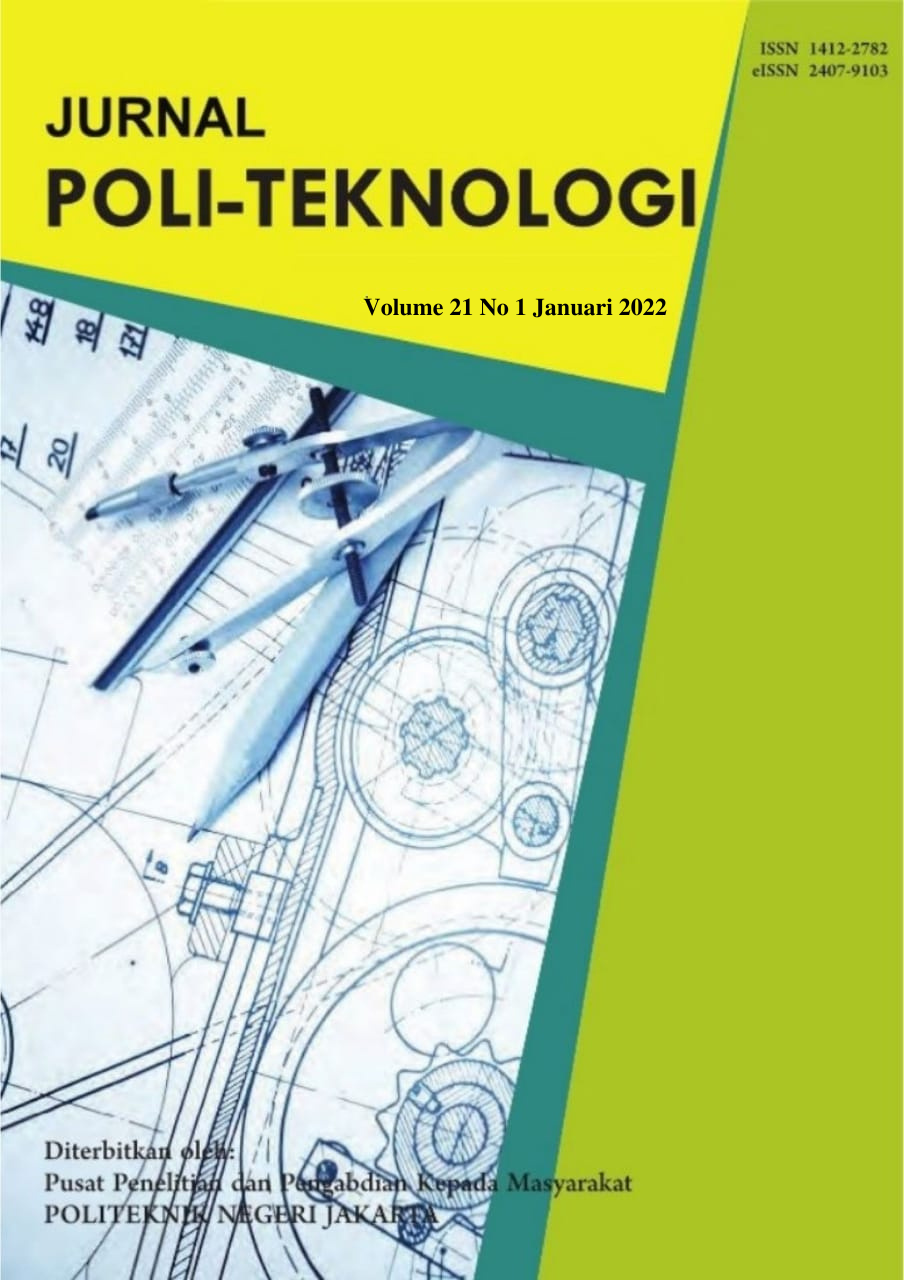 Downloads
How to Cite
Utomo, S., Rosanti, I., Muhtadi, A., & Wahyu Sasongko, H. (2022). ANALISA SIFAT FISIS AGREGAT LIMBAH BAHAN BAKAR BATU BARA DAN PEMANFAATANNYA UNTUK BAHAN BANGUNAN NON STRUKTUR. Jurnal Poli-Teknologi, 21(1), 11–17. https://doi.org/10.32722/pt.v21i1.4430
License
Copyright (c) 2022 Satriyo Utomo, Indah Rosanti, Akhmad Muhtadi, Hartanto Wahyu Sasongko
This work is licensed under a Creative Commons Attribution-ShareAlike 4.0 International License.