PENGARUH MUKA AIR TANAH TERHADAP TEGANGAN EFEKTIF TANAH DASAR CANDI PRAMBANAN BERDASAR METODE ELEMEN HINGGA
Abstract
ABSTRACT
Indonesia which geographically has an area located at 6º LU up to 11º LS and 97º BT up to 141º BT is an area prone to earthquakes. Determination of the temple as a world cultural heritage has implications for the responsibilities and obligations of the Indonesian people in an effort to protect and maintain the building in accordance with the conventions set by UNESCO. The convention, among others, is maintaining the preservation of buildings from the dangers of war, physical damage due to age, and natural disasters. This research was conducted with the aim to determine the effect of groundwater depth and earthquake acceleration on the strength of Prambanan Temple subgrade based on finite element method. Simplification of Siwa Temple as a modeling in software input. The results of the study are the shallower depth of the ground water level, the effective stress of the soil will also be reduced. When effective stress decreases, the strength of the soil will also decrease. The deeper the depth of the water table, the effective stress of the soil increases. The depth of the ground water level affects the amount of excess pore pressure. The more shallow the depth of the ground water level, the amount of excess pore pressure will also increase even the value is positive. The deeper the depth of the ground water level, the greater the amount of excess pore pressure decreases even the value is negative.

Key words : Prambanan Temple, effective stresses, excess pore pressure

ABSTRAK

Indonesia yang secara geografis mempunyai wilayah yang terletak pada 6º LU sampai dengan 11 º LS serta 97º BT sampai dengan 141º BT merupakan daerah yang rawan terhadap gempa bumi. Penetapan candi sebagai warisan budaya dunia berimplikasi pada tanggung jawab dan kewajiban bangsa Indonesia dalam upaya melakukan pelindungan dan pemeliharaan bangunan tersebut sesuai dengan konvensi yang telah ditetapkan oleh UNESCO. Konvensi tersebut antara lain menjaga pelestarian bangunan dari bahaya perang, kerusakan fisik karena termakan usia, dan bencana alam. Penelitian ini dilakukan dengan tujuan untuk mengetahui pengaruh kedalaman muka air tanah dan percepatan gempa terhadap kekuatan tanah dasar Candi Prambanan berdasar metode elemen hingga. Ilustrasi penyederhanaan Candi Siwa sebagai pemodelan dalam input perangkat lunak. Hasil penelitian adalah semakin dangkal kedalaman muka air tanah, maka tegangan efektif tanah juga akan berkurang. Pada saat tegangan efektif berkurang maka kekuatan tanah juga akan berkurang. Semakin dalam kedalaman muka air tanah, tegangan efektif tanah semakin meningkat. Kedalaman muka air tanah mempengaruhi besarnya excess pore pressure. Semakin dangkal kedalaman muka air tanah, besarnya excess pore pressure juga akan meningkat bahkan nilainya positif. Semakin dalam kedalaman muka air tanah, besarnya excess pore pressure semakin menurun bahkan nilainya negatif.
Kata kunci : candi prambanan, tegangan efektif, excess pore pressure.
Downloads
Download data is not yet available.
References
Wahyudi, H.D., 2014, Kajian Stabilitas Fondasi Candi Prambanan Terhadap Beban Gempa Dengan Simulasi Numeris, Tesis S2 Geoteknik UGM, Yogyakarta, Indonesia.
Tim Penyusunan Detail Engineering Design (DED), 2012, Kegiatan Studi Teknis Pelestarian Candi Siwa, Kompleks Candi Prambanan, BPCB Yogyakarta.
Mithchell, J.K dan Soga, K., 2005, Fundamentals of Soil Behavior, John Wiley & Sons, Inc., New Jersey.
Venkatramaiah,C., 2006, Geotechnical Engineering, New Age International (P) Ltd, New Delhi.
Verruijt, A., 2006, Soil Mechanics, Delft University of Technology, Dutch.
Elnashai, A.S., Kim, S.J., Yun, G.J. dan Sidarta, D., 2006, The Yogyakarta Earthquake of May 27, 2006; MAE Center Report.
Sengara, I.W., 2008, Seismic Hazard and Microzonation for A District in Banda Aceh City Post 2004 Great Sumatra Earthquake, diunduh tanggal 8 Desember 2010.
Kusumawardhani, R., Lashari, Nugroho, U., Tri Cahyo, H., Analisis Tekanan Air Pori Clean Sand Menggunakan Metode Cyclic Shear-Strain Controlled. Jurnal Teknik Sipil & Perencanaan. Nomor 1. Volume 17 – Januari 2015, hal: 63-72.
Pusat Gempa Regional VII, Stasiun Geofisika Kelas I Yogyakarta, Badan Meterologi Klimatologi dan Geofisika, Stasiun Geofisika Yogyakarta.
http://earthquake.usgs.gov/earthquakes/search/ diakses 24 Juni 2018
Suryolelono, K.B., 2007, Candi Prambanan Pasca Gempa Bumi, Forum Teknik Sipil No. XVII/3-September 2007, http://puslit2.petra.ac.id/ejournal/index.php/cef/article/download/17363/17307 , diunduh tanggal 10 Agustus 2018.
Haryono, T., Supangat, S.S., Pramastuti, H. dan Marah, R., 2004, Pelapukan Batu Candi Siwa Prambanan dan Upaya Penangannya, Balai Pelestarian Peninggalan Purbakala Yogyakarta, Bogem Kalasan.
Rahmi, 2011, Perilaku Regangan-Siklus Pembebanan Tanah Pasir Prambanan dengan Uji Triaksial Siklis, Tesis S2 Geoteknik UGM, Yogyakarta, Indonesia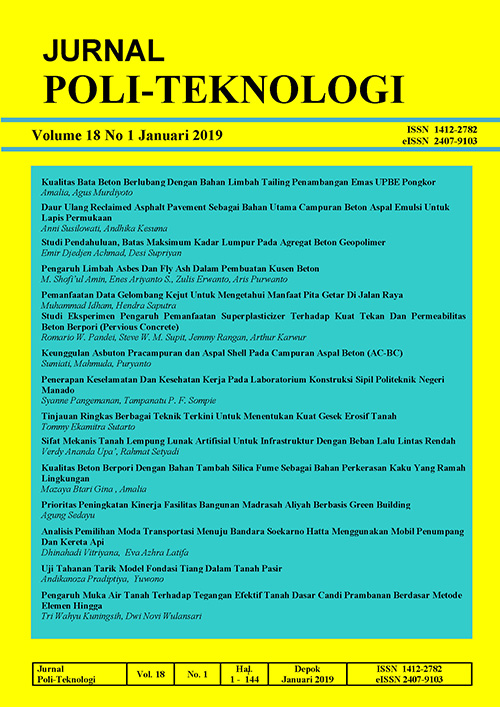 Downloads
How to Cite
Kuningsih, T. W., & Wulansari, D. N. (2019). PENGARUH MUKA AIR TANAH TERHADAP TEGANGAN EFEKTIF TANAH DASAR CANDI PRAMBANAN BERDASAR METODE ELEMEN HINGGA. Jurnal Poli-Teknologi, 18(1). https://doi.org/10.32722/pt.v18i1.1323