ANALISIS SAMBUNGAN BALOK PRECAST SEDERHANA SISTEM MECHANIC AND WET CONNECTION PADA MOMEN MAKSIMUM
Abstract
ABSTRACT
The Result of this research is conventional beam (K1,K2) or precast beam (P1,P2), for precast beam (P1,P2) grouted with SIKA Grout 215 product and mechanic at the joint. Compressive Strength of concrete at 28 day is 358,26 Kg/cm2
For flexure test until failure have resulted for convensional beam K1 deflection at maximum load 9,61 ton is 2,114 cm, for convensional beam K1 deflection at maximum load 9,82 ton is 1,479 cm, for convensional beam K1 deflection at maximum load 12,79 ton is 2,103 cm, for convensional beam K1 deflection at maximum load 12,02 ton is 1,745 cm
Keywords: Precast, Grouting, non shrinkage
ABSTRAK
Pada penelitian ini telah dihasilkan benda uji baik benda uji konvensional (K1, K2) maupun benda uji precast (P1,P2) dimana untuk benda uji P1 dan P2 dilakukan penggroutingan dengan bahan grouting nonshrinkage (tidak susut) produk Sika Grout 215 pada daerah sambungannya selain dengan mechanic joint. Mutu beton rata – rata yang dicapai adalah 358,26 Kg/cm2
Hasil yang telah dicapai pada penelitian ini adalah untuk balok konvensional K1 menghasilkan lendutan pada beban maksimum 2,114 cm , untuk balok konvensional K2 menghasilkan lendutan pada beban maksimum 1,479 cm, untuk balok precast P1menghasilkan lendutan pada beban maksimum 2,103 cm, untuk balok precast P2 menghasilkan lendutan pada beban maksimum 1,745 cm
Beban maksimum yang dicapai balok konvensional K1 adalah 9,61 ton, untuk balok konvensional K2, beban maksimum 9,82 ton, untuk balok precast P1, beban maksimum 12,79 ton, untuk balok precast P2 beban maksimum 12,02 ton
Kata Kunci : Precast, Grouting, non shrinkage
Downloads
Download data is not yet available.
References
Kim, Jail. J. dan Mandagula Murty.K.S. 2010. "Behavior of Mechaniced Circular Flange Connections Subject to Tensile Loading". International Journal of Steel Structure,Vol.10,March 2010
Rodríguez. dan Torres M, Summer. 2013. "Seismic Behavior of type of welded precast concrete beam- colum connection". PCI Journal Paper,Vol.58, Issue: 3, Page number: 81-94
Ugur Ersoy and Tankut Tugrul. 1993."Precast Concrete Members with Welded Plate Connections Under Reversed Cyclic Loading" PCI Jurnal Paper, Volume 38, Issue: 4, Page number: 94-100
Nadim,M and Manaser,A. 2008. Structural Concrete : Theory and Design , John Wiley and Sons, USA
Ameli,J dan Park,Joel E. 2015. "Seismic evaluation of grouted splice sleeve connections for reinforced precast concrete column–to–cap beam joints in accelerated bridge construction". PCI Journal Paper, Volume: 60 Issue: 2 Page number: 80 – 103
Nabi Goudarzi, Yasser Korany. 2016. "Characterization of the shear behavior of Z-shaped steel plate connectors used in insulated concrete panels". PCI Journal Paper, Volume: 61,Issue: 2, Page Number: 23-37
Elide Pantoli dan Tara C. Hutchinson. 2016. "Seismic-drift-compatible design of architectural precast concrete cladding: Tieback connections and corner joints". PCI Journal Paper, Volume: 61, Issue: 4, Page Numbers: 38-52
Hatem M. Seliem dan Lining Ding. 2016."Use of a carbon-fiber-reinforced polymer grid for precast concrete piles". PCI Journal Paper,Volume: 61, Issue: 5, Page Number: 37-48
ACI Committee 318, 2011, Building Code Requirments for Structure and Commentary,American Concrete Institute, Detroit
SNI 03-2847-2012,Standar Nasional Indonesia ,Tata Cara Perhitungan Struktur Beton Untuk Bangunan Gedung, Bandung, 2012.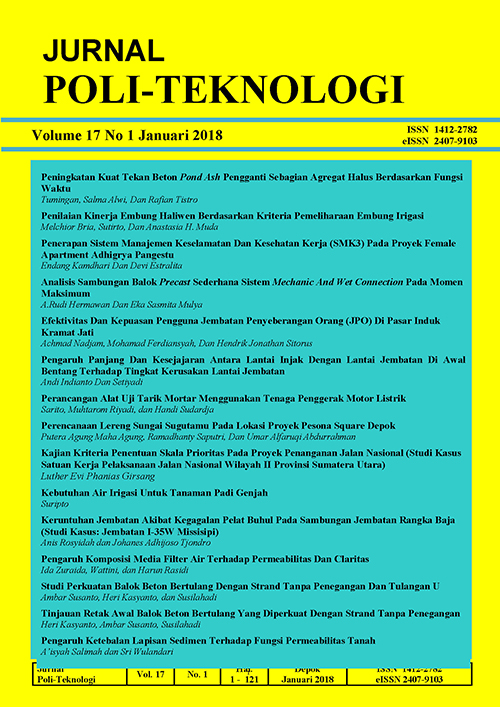 Downloads
How to Cite
Hermawan, A. R., & Mulya, E. S. (2018). ANALISIS SAMBUNGAN BALOK PRECAST SEDERHANA SISTEM MECHANIC AND WET CONNECTION PADA MOMEN MAKSIMUM. Jurnal Poli-Teknologi, 17(1). https://doi.org/10.32722/pt.v17i1.1090