PENGENALAN PEMBUATAN SABUN CUCI MINYAK JELANTAH PADA WARGA KAMPUNG KEBON DUREN-DEPOK
Abstract
Environmental pollution due to waste cooking oil is a problem that is currently being faced by residents of RW 04 Kampung Kebon Duren-Cilodong-Depok, West Java. Community service carried out by the lecturer team of the Energy Conversion Engineering Study Program of the Politeknik Negeri Jakarta (PNJ) was to introduce and to train in making laundry soap made from used cooking oil. It was also as an effort to empower Kampung Kebon Duren-Cilodong, Depok in dealing with the COVID-19 pandemic. The implementation of community service begins with the presentation of material about used cooking oil and the purpose of using used cooking oil, preparing tools and materials, procedures for making soap from used cooking oil, and packaging soap. This activity, in general, consists of 1) pre-activity, 2) activity planning, 3) pre-implementation of training activities, 4) counseling and mentoring, and 5) activity evaluation. This training program creates entrepreneurship opportunities and educates residents on how to process used cooking oil which is household waste to be converted into a product that is worth selling so that it is not simply thrown into the environment because it can pollute the environment.
 Keywords, Used Cooking Oil, Soap, Environment, Training, Community Service
Pencemaran lingkungan akibat limbah minyak jelantah merupakan permasalahan yang saat ini sedang dihadapi oleh Warga RW 04 Kampung Kebon Duren-Cilodong-Depok.Pengabdian masyarakat yang dilakukan oleh tim dosen program studi Teknik Konversi Energi PNJ adalah pelatihan pembuatan sabun cuci berbahan dasar minyak jelantah sebagai upaya pemberdayaan Kampung Kebon Duren-Cilodong, Depok. Pelaksanaan pengabdian masyarakat diawali dengan pemaparan materi tentang bahaya minyak jelantah bagi kesehatan dan lingkungan serta tujuan pemanfaatan minyak jelantah, persiapan alat dan bahan, prosedur pembuatan sabun cuci dari minyak jelantah dan pengemasan sabun. Kegiatan ini, secara garis besar terdiri atas: 1) pra kegiatan, 2) perencanaan kegiatan, 3) pre-pelaksanaan kegiatan pelatihan, 4) penyuluhan dan pendampingan, serta 5) evaluasi kegiatan. Program pelatihan ini menciptakan peluang berwirausaha dan mengedukasi warga terkait cara untuk mengolah minyak jelantah yang merupakan limbah rumah tangga untuk diubah menjadi produk bernilai jual sehingga tidak dibuang begitu saja ke lingkungan karena dapat mencemari lingkungan.
Kata-kata kunci: Minyak Jelantah, Sabun Cuci, Lingkungan, Pelatihan, Pengabdian Masyarakat
Downloads
Download data is not yet available.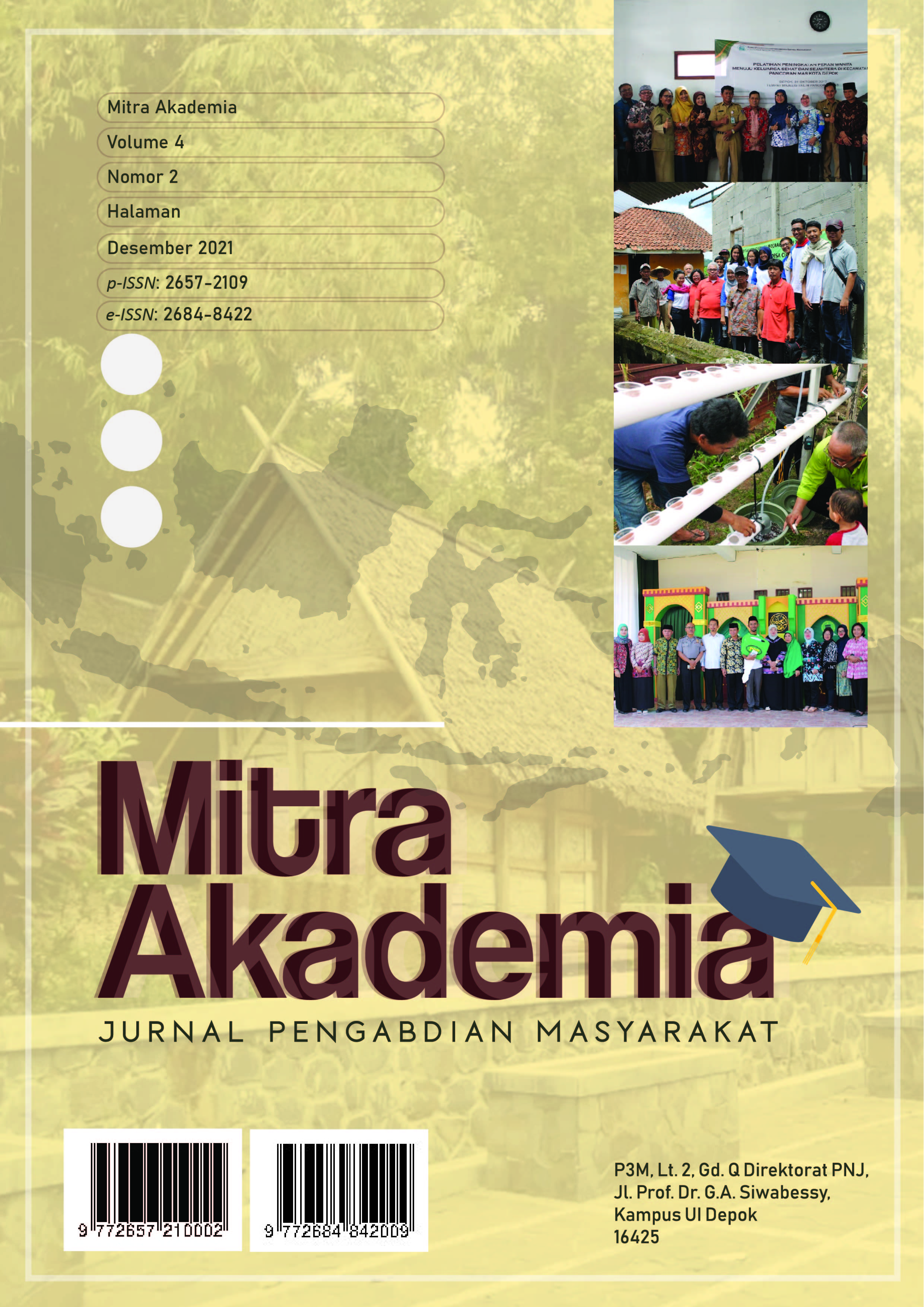 Downloads
How to Cite
Nuriskasari, Isnanda, Arifia Ekayuliana, Agus Sukandi, and Cecep Slamet Abadi. "PENGENALAN PEMBUATAN SABUN CUCI MINYAK JELANTAH PADA WARGA KAMPUNG KEBON DUREN-DEPOK". Mitra Akademia: Jurnal Pengabdian Masyarakat 4, no. 2 (December 31, 2021): 182–189. Accessed March 21, 2023. https://jurnal.pnj.ac.id/index.php/mak/article/view/4280.
License
This work is licensed under a Creative Commons Attribution-ShareAlike 4.0 International License.