PENGUATAN DAN PENGEMBANGAN USAHA KOPERASI
Abstract
This article is stemmed from a community service that aims to develop the fostered cooperative businesses, namely the Dana Bakti Sahabat cooperative, the Pesantren Luhur Sabilussalam Cooperative, and the Bina Mujtama' Madani Cooperative. The community service that has taken is dedicated to community economic empowerment through strengthening and developing cooperative businesses. This community service is also a real contribution of the Politeknik Negeri Jakarta, especially in developing Islamic Banking and Finance study program.  It uses a mentoring approach with the Asset Based Communities Development (ABCD) method, where this method prioritizes the utilization of the potential or assets in the cooperative business. Its result are, among others, legalizing the status of cooperatives, strengthening cooperative system, as well as capital assisting for cooperative business development. Capital assistance is provided in the form of
grants for goods needed by cooperatives.
Keywords: Mentoring, Asset Based Communities Development, legality, system, capital assistance

Pengabdian masyarakat ini bertujuan untuk mengembangkan usaha koperasi binaan, yaitu koperasi Dana Bakti Sahabat, Koperasi Pesantren Luhur Sabilussalam, dan Koperasi Bina Mujtama' Madani. Pengabdian ini untuk pemberdayaan ekonomi masyarakat melalui penguatan dan pengembangan usaha koperasi. Disisi lain pengabdian masyarakat ini juga sebagai bentuk kontribusi nyata Politeknik Negeri Jakarta dalam hal ini program studi Keuangan dan Perbankan Syariah. Dalam pengabdian ini menggunakan pendekatan pendampingan dengan menggunakan metode Asset Based Communities Development (ABCD), yang mana metode ini mengutamakan pemanfaatan potensi atau aset yang ada di koperasi. Pelaksanaan pengabdian menghasilkan legalitas koperasi, sistem koperasi, dan bantuan modal untuk pengembangan usaha koperasi. Untuk bantuan modal diberikan dalam bentuk hibah barang yang dibutuhkan koperasi.
Kata kunci: Pendampingan, Asset Based Communities Development, legalitas, sistem, bantuan moda
Downloads
Download data is not yet available.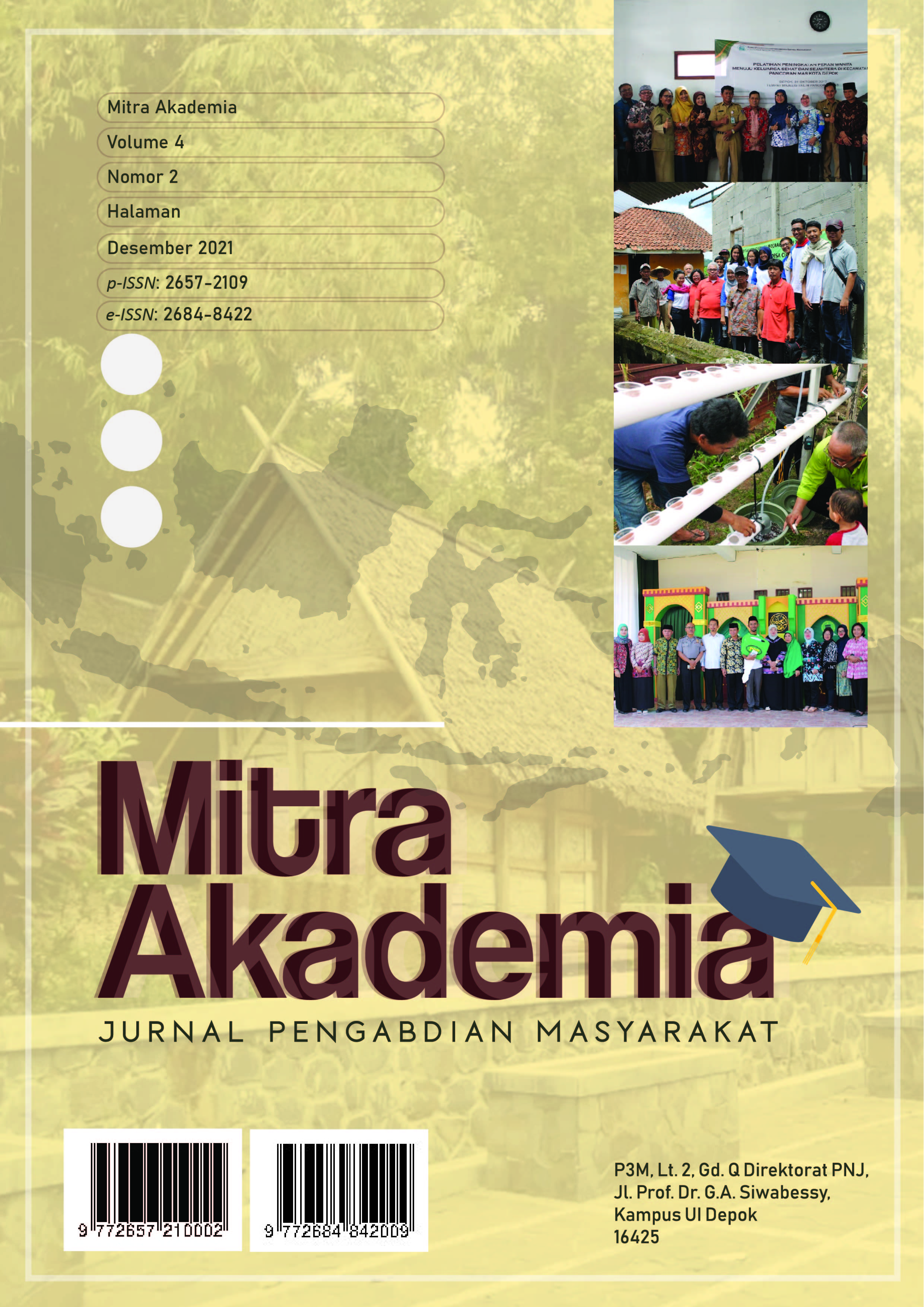 Downloads
How to Cite
Muchtasib, Ach. Bakhrul, Dede Abdul Fatah, Nurul Hasanah, Ida Syafrida, Abdillah dillah, and Nuraeni Hadiati Farhani. "PENGUATAN DAN PENGEMBANGAN USAHA KOPERASI". Mitra Akademia: Jurnal Pengabdian Masyarakat 4, no. 2 (December 31, 2021): 190–197. Accessed March 21, 2023. https://jurnal.pnj.ac.id/index.php/mak/article/view/4278.
License
This work is licensed under a Creative Commons Attribution-ShareAlike 4.0 International License.