HIBAH MEJA BELAJAR SEBAGAI TAMBAHAN SARANA PERSIAPAN PROSES BELAJAR MENGAJAR TATAP MUKA DIMASA PANDEMI COVID 19 DI SMP ISLAM TAUFIQURRAHMAN DEPOK
Abstract
The Covid-19 pandemic has been going on for ± 1 year. This has an impact on all areas, including the education sector. The impact in the field of education itself forces learning to be carried out with an online system, both in Indonesia and even the world. Over time, the Indonesian government issued Joint Decrees (SKB) from the Minister of Education and Culture, the Minister of Religion (Menag), the Minister of Health (Menkes), and the Minister of Home Affairs (Mendagri) regarding the granting of face-to-face study permits to local governments by implementing protocols strict health. The face-to-face teaching and learning process itself is carried out in stages. In Kota Depok itself, the local government plans to carry out the teaching and learning process in stages by implementing health protocols in the 2021/2022 academic year. In line with that, schools need to prepare facilities that are in accordance with existing health protocols so that the teaching and learning process runs in an orderly, safe and comfortable manner. fluent. One of the most important facilities is a study table in accordance with health protocols. Taufiqurahman Junior High School is one of the schools located on Jl. Baiturrahim No. 12, Beji Timur, Kec. Beji, Kota Depok, Jawa Barat. This school is located not far from the Politeknik Negeri Jakarta (PNJ) campus. This is certainly a concern of the academic community, especially the academic community of mechanical engineering study programs, because one of the main tasks of the academic community is to carry out the Tri Dharma Perguruan Tinggi, one of which is Community Service. Community service itself in the previous year has also been carried out at this school. For the sustainability of cooperation in the field of self-service, the community conducts observations of schools where the results of observations are that schools do not yet have study tables in accordance with health protocols. Therefore, this year the academic community of the mechanical engineering study program has the idea and idea to provide a grant in the form of a study table in accordance with health protocols as one of the preparations for the face-to-face teaching and learning process during the covid period. -19 pandemic.
Keywords: Covid-19, study table, Taufiqurrahman Islamic Junior High School
Downloads
Download data is not yet available.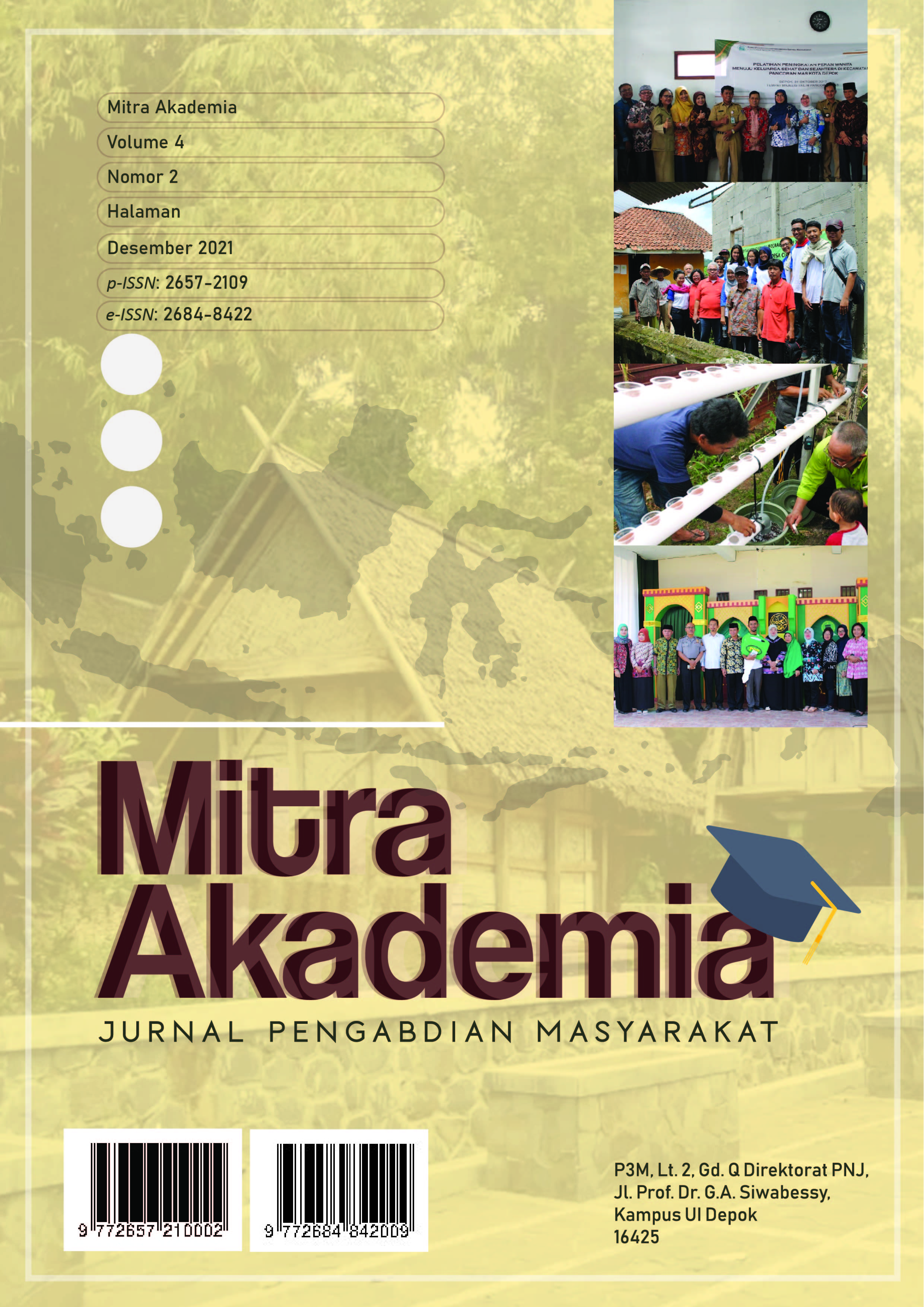 Downloads
How to Cite
mulyana, fajar. "HIBAH MEJA BELAJAR SEBAGAI TAMBAHAN SARANA PERSIAPAN PROSES BELAJAR MENGAJAR TATAP MUKA DIMASA PANDEMI COVID 19 DI SMP ISLAM TAUFIQURRAHMAN DEPOK". Mitra Akademia: Jurnal Pengabdian Masyarakat 4, no. 2 (December 31, 2021): 169–174. Accessed March 21, 2023. https://jurnal.pnj.ac.id/index.php/mak/article/view/4243.
License
This work is licensed under a Creative Commons Attribution-ShareAlike 4.0 International License.