PELATIHAN PEMASARAN HASIL BUDIDAYA CACING SUTRA PADA KOMUNITAS PETERNAK IKAN HIAS TAPOS DEPOK
Abstract
Abstract
The ability to market business results is one of the factors that affect the success and achievement of the mission of an entity's vision of activities. The cultivation of silk worms developed by ornamental fish farmers Tapok Depok becomes a commodity that can increase income to deal with the impact of the covid19 pandemic. In 2021, the D4 Financial Accounting Study Program of the Department of Accounting of The State Polytechnic of Jakarta organized devotional activities with the aim of improving the year and ability regarding the marketing strategy of silkworm cultivation. The methods applied in this community service through training and mentoring of marketing activities of silkworm cultivation. Considering the fundamental efforts in helping the marketing of silkworm cultivation products, donated equipment used in the breeding of silk worms and a set of medicines as well as health advocates. One of the results of this training is in the form of a Manual for Marketing Silk Worm Cultivation Products Online. This book provides an explanation of the stages that silkworm breeders can take to market the results online. The ability to market and select marketing strategies are the main keys in the business in today's pandemic. And the use of technology and social media proved to be very positive in increasing income.
Keywords: marketing, silk worms, online media.
Abstrak
Kemampuan dalam memasarkan hasil usaha merupakan salah satu faktor yang mempengaruhi keberhasilan dan tercapainya misi visi kegiatan suatu entitas. Hasil budidaya cacing sutra yang dikembangkan oleh para peternak ikan hias Tapok Depok menjadi komoditas yang dapat meningkatkan penghasilan guna menghadapi dampak pandemi covid19. Pada tahun 2021 Program Studi D4 Akuntansi Keuangan Jurusan Akuntansi Politeknik Negeri Jakarta menyelenggarakan kegiatan pengabdian dengan tujuan meningkatkan pengetahun dan kemampuan mengenai strategi pemasaran budidaya cacing sutra. Metode yang diterapkan dalam pengabdian masyarakat ini melalui pelatihan dan pendampingan kegiatan pemasaran hasil budidaya cacing sutra. Mempertimbangkan upaya mendasar dalam membantu pemasaran hasil budidaya cacing sutra maka disumbangkan peralatan yang digunakan dalam pembiakan cacing sutra dan seperangkat obat-obatan serta pendukung Kesehatan. Salah satu hasil dari pelatihan ini berupa Buku Pedoman Pemasaran Hasil Budidaya Cacing Sutra Secara Online. Buku ini memberikan penjelasan mengenai tahapan yang dapat dilakukan oleh peternak cacing sutra untuk memasarkan hasilnya secara online. Kemampuan memasarkan dan pemilihan strategi pemasaran menjadi kunci utama dalam usaha di masa pandemic sekarang ini. Dan pemanfaatan teknologi serta media sosial terbukti sangat berdampak positif dalam meningkatkan penghasilan.
Kata kunci: pemasaran, cacing sutra, media online.
Downloads
Download data is not yet available.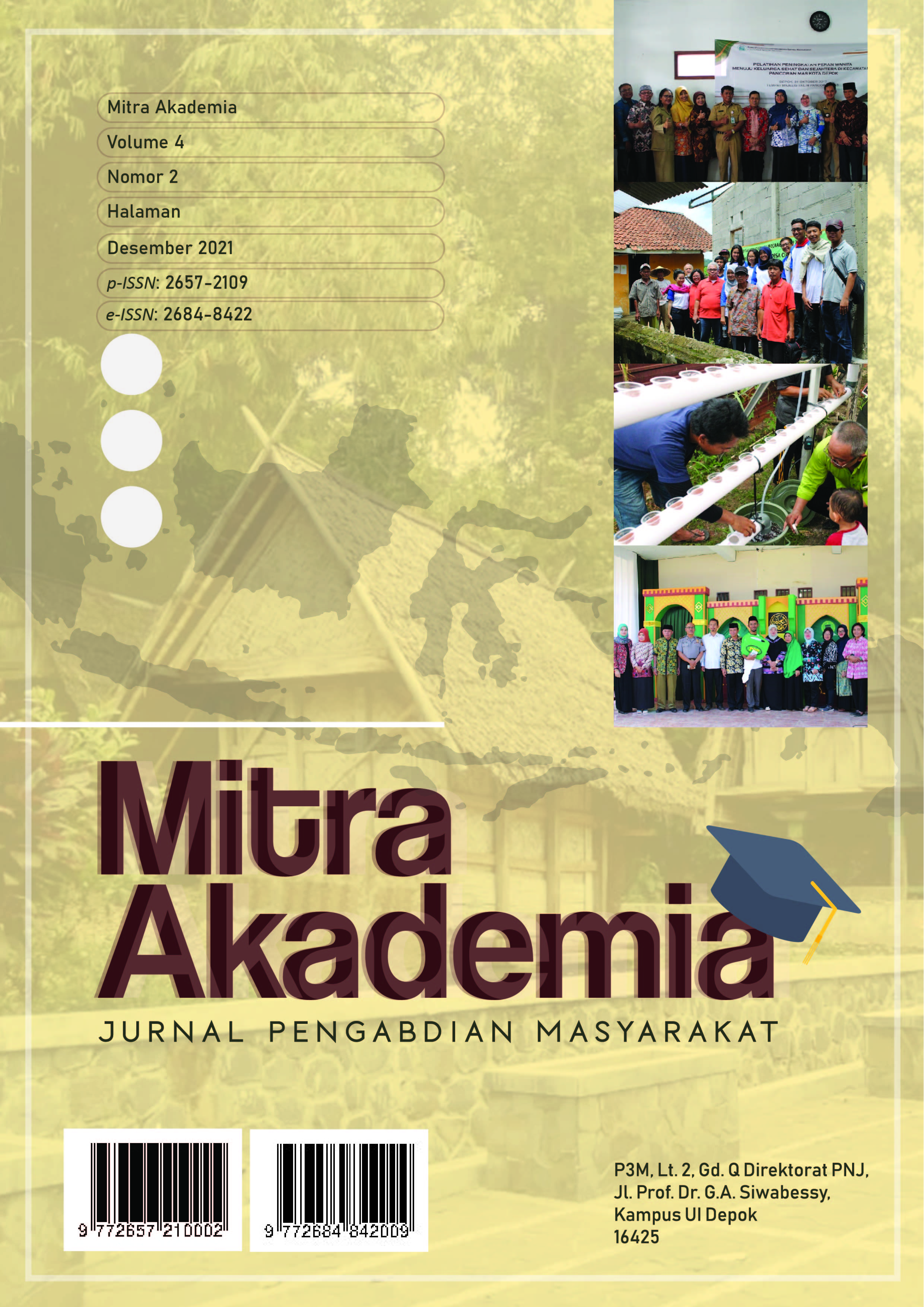 Downloads
Published
2021-12-31 — Updated on 2022-01-05
How to Cite
Ekowati, Lia. "PELATIHAN PEMASARAN HASIL BUDIDAYA CACING SUTRA PADA KOMUNITAS PETERNAK IKAN HIAS TAPOS DEPOK". Mitra Akademia: Jurnal Pengabdian Masyarakat 4, no. 2 (January 5, 2022): 151–156. Accessed May 30, 2023. https://jurnal.pnj.ac.id/index.php/mak/article/view/4235.
License
This work is licensed under a Creative Commons Attribution-ShareAlike 4.0 International License.