PENDEKATAN PDCA (PLAN, DO, CHECK, ACTION) DALAM UPAYA MERINGANKAN DAMPAK EKONOMI AKIBAT PANDEMI COVID-19 DI CITAYAM
Abstract
The COVID-19 pandemic has disrupted the community's economy, especially in the Depok Citayam area. This community service activity aims to help maintain food security for small and medium-sized communities who are experiencing economic impacts due to the COVID-19 outbreak in the Citayam Depok area as well as a medium for promoting the TICK study program and applying scientific fields in the implementation of community service. The PDCA approach was carried out with field surveys, in-depth interviews, and brainstorming as the basis for careful planning; manufacture of rice packaging and goody bags designed and made independently, checking with Pareto diagrams and distributing basic necessities in collaboration with DKM (Al Iklhlas Puri Bojong Lestari 2 Pabuaran Bojong Gede). This service activity has succeeded in providing 100 food packages and given to residents who need it most based on the data obtained. 
Keywords: COVID-19, PDCA, Rice packaging and goody bags, Pareto diagram, Food security
Pandemik COVID-19 telah mengganggu ekonomi masyarakat khususnya di wilayah Depok Citayam. Kegiatan pengabdian masyarakat ini bertujuan untuk membantu menjaga ketahanan pangan masyarakat kecil menengah kebawah yang mengalami dampak ekonomi akibat wabah COVID-19 di daerah Citayam Depok serta sebagai media promosi program studi TICK dan penerapan bidang keilmuan dalam pelaksanaan pengabdian kepada masyarakat. Pendekatan PDCA dilakukan dengan survey lapangan, wawancara (in-depth interview) dan brainstorming sebagai dasar perencanaan yang matang; pembuatan kemasan beras dan goody bag yang dirancang dan dibuat secara mandiri, pengecekan dengan diagram Pareto dan penyaluran sembako kebutuhan pokok dengan bekerja sama dengan DKM (Al Iklhlas Puri Bojong Lestari 2 Pabuaran Bojong Gede). Kegiatan pengabdian ini telah berhasil memberikan 100 paket sembako dan diberikan ke warga yang paling membutuhkan berdasarkan data yang diperoleh.
Kata Kunci: COVID-19, PDCA, kemasan beras dan goody bag, diagram pareto, ketahanan pangan
Downloads
Download data is not yet available.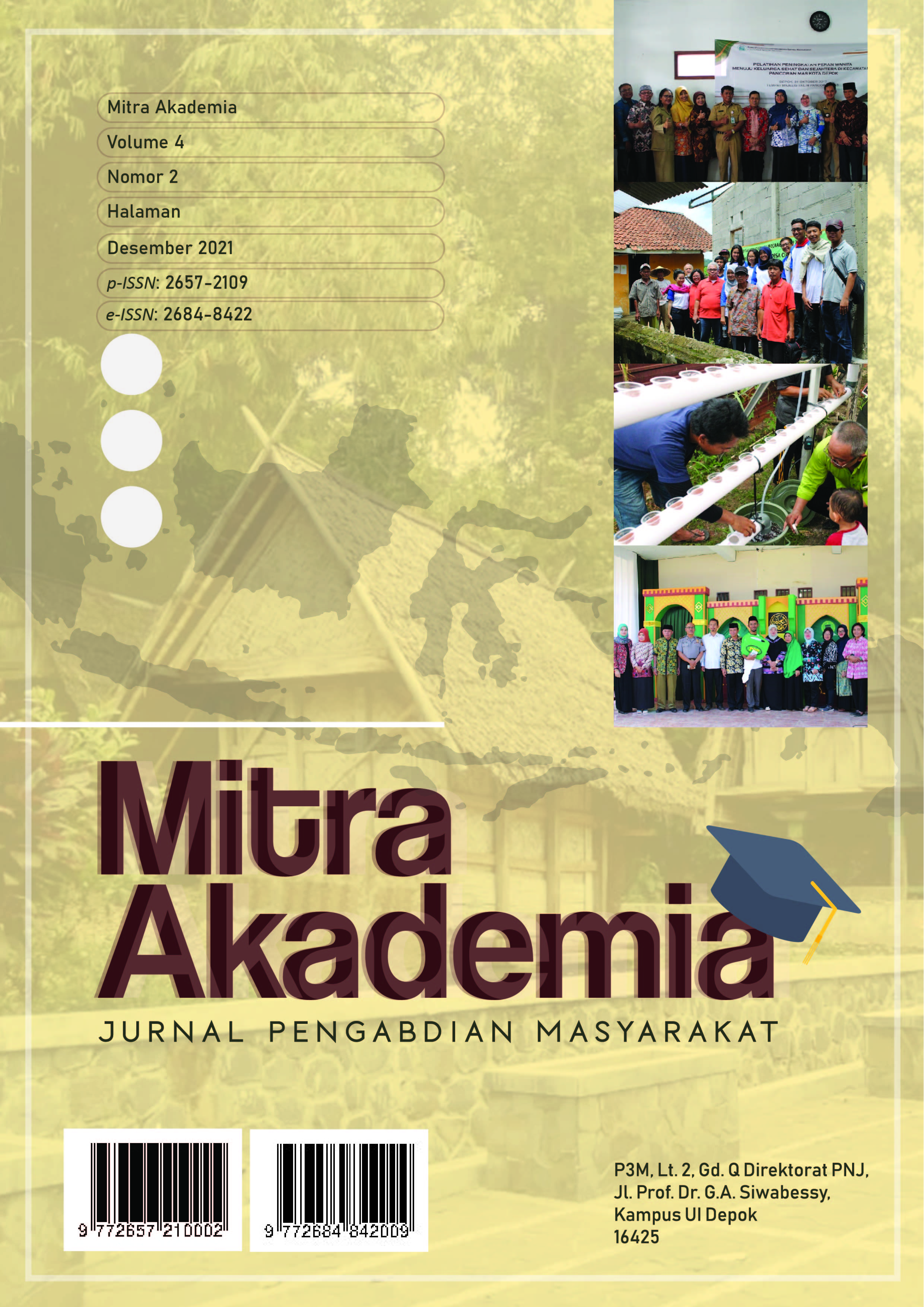 Downloads
How to Cite
nain, zulkar, Saeful Imam, Muryeti MA, Rina Ningtyas, Novi Purnamasari, and Deli Silvia. "PENDEKATAN PDCA (PLAN, DO, CHECK, ACTION) DALAM UPAYA MERINGANKAN DAMPAK EKONOMI AKIBAT PANDEMI COVID-19 DI CITAYAM". Mitra Akademia: Jurnal Pengabdian Masyarakat 4, no. 2 (December 31, 2021): 175–181. Accessed March 30, 2023. https://jurnal.pnj.ac.id/index.php/mak/article/view/3923.
License
This work is licensed under a Creative Commons Attribution-ShareAlike 4.0 International License.