PENINGKATAN KEMAMPUAN PENULISAN SURAT DINAS DI KECAMATAN PONTANG KABUPATEN SERANG, PROVINSI BANTEN
Abstract
Abstract
Socialization and training on writing official letters were held in Kubang Puji Village, Pontang District, Serang Regency, Banten Province. The activity was carried out as a result of the collaboration of a team of Indonesian language lecturers from several different departments at the Politeknik Negeri Jakarta to jointly go down to the community to carry out service in the form of socializing and training official letters for staff in the village and sub-district environment. This activity begins with socialization which aims to regenerate public awareness to be able to use the Indonesian language properly and correctly, both orally and in writing, as well as socialize matters related to correspondence material, especially official letters. After that, the lecturer team made a direct approach to the community to carry out technical guidance on writing official letters. The result of this activity is that the community is reminded of the importance of communicating using good and correct Indonesian, as well as increasing knowledge and skills in writing official letters.
Keywords –socialization, training, official letter, Pontang District, Serang-Banten
Abstrak
Sosialisasi dan pelatihan penulisan surat dinas dilaksanakan di Desa Kubang Puji, Kecamatan Pontang, Kabupaten Serang, Provinsi Banten. Kegiatan tersebut dilaksanakan hasil kolaborasi di antara tim dosen bahasa Indonesia yang berasal dari beberapa jurusan yang berbeda di Politeknik Negeri Jakarta untuk sama-sama turun ke masyarakat untuk melakukan pengabdian berupa sosialisasi dan pelatihan surat dinas bagi para staf di lingkungan desa dan kecamatan. Kegiatan ini diawali dengan sosialisasi yang bertujuan untuk menumbuhkan kembali kesadaran masyarakat untuk dapat menggunakan bahasa Indonesia dengan baik dan benar, baik secara lisan maupun tertulis, serta menyosialisasikan juga hal-hal yang terkait dengan materi korespondensi, khususnya, surat dinas. Setelah itu, tim dosen melakukan pendekatan secara langsung dengan masyarakat untuk membimbing secara teknis dalam penulisan surat dinas. Hasil dari kegiatan ini masyarakat tersadarkan kembali akan pentingnya berkomuniasi menggunakan bahasa Indonesia yang baik dan benar, serta adanya peningkatan pengetahuan dan keterampilan dalam menulis surat dinas.
Kata kunci –sosialisasi, pelatihan, surat dinas, Kecamatan Pontang, Serang-Banten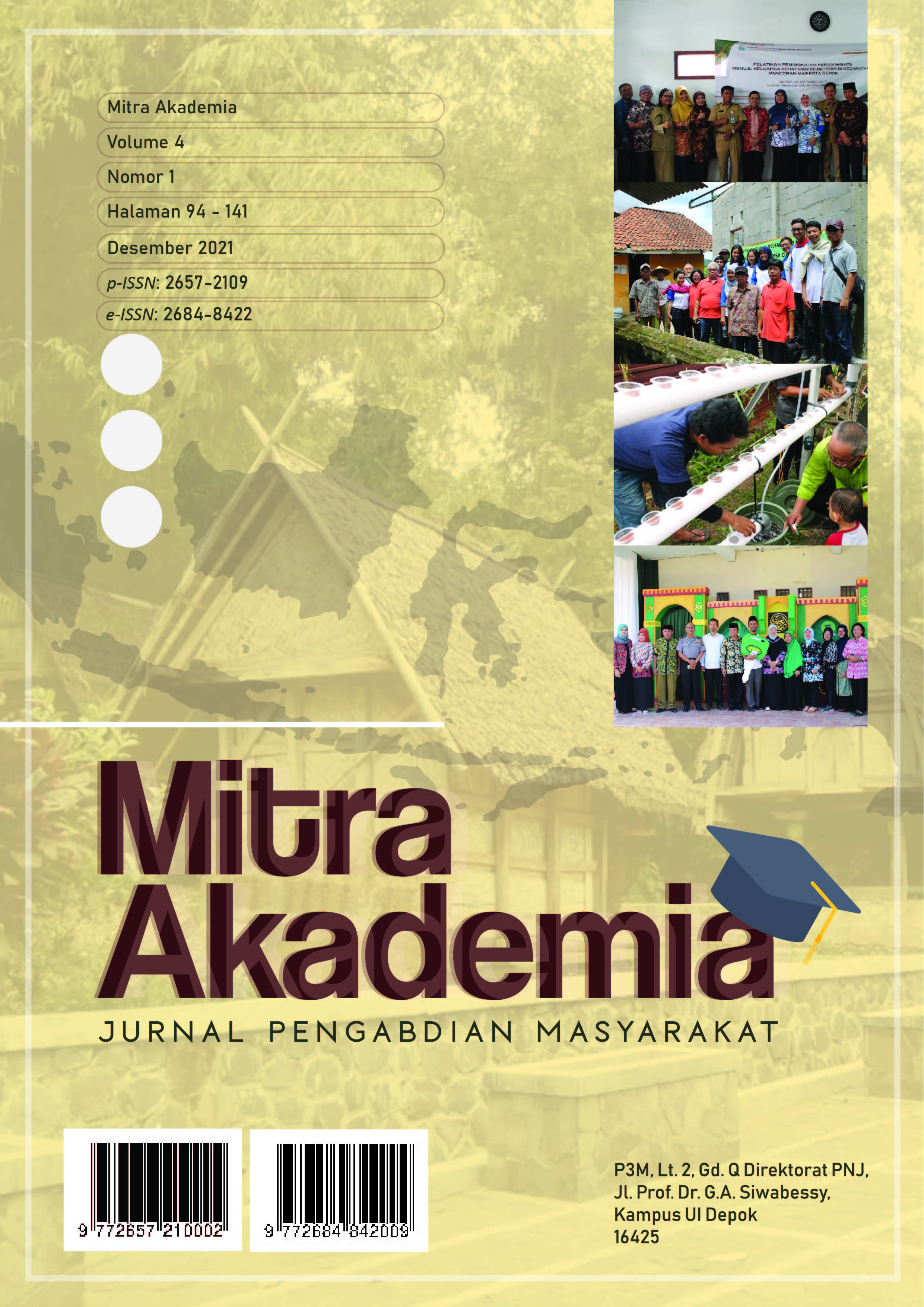 Downloads
License
Copyright (c) 2021 Mitra Akademia
This work is licensed under a Creative Commons Attribution-ShareAlike 4.0 International License.