KERAN OTOMATIS SEBAGAI SOLUSI PENERAPAN PERILAKU HIDUP BERSIH DAN SEHAT DI MADRASAH IBTIDAIYAH MUHAMMADIYAH 1 BEJI TIMUR DEPOK
Abstract
Abstract
Covid-19 pandemic has affected the education sector. Having implemented physical distancing policy to stop virus transmission in the second semester of 2019-2020 made learning from home policy for school children by using internet access. Almost all schools undergo learning from home during pandemic covid-19 including schools in Depok, West Java. To protect student health conditions returning study at school, infrastructure for health and clean sanitary system must be strengthened. The telecommunication study program of the Electronic Engineering department of Politeknik Negeri Jakarta offers electric washing hand tools or electric washbasin at Islamic Madrasa Muhammadiyah 1, Beji Timur Depok. This elementary school is a partner for the community development program of the study program. Washbasins are placed in front of classes equipped with a water tap as well as an appropriate drainage system. Water tap is built by using an infrared sensor which is based on microcontroller Atmega 328p. This electric water tap enables students and teachers to wash their hands merely by getting closer their hands on the water tap. Water will be poured and be stopped automatically.
Keywords –Covid-19, electric water tap, health system, washbasin.
Abstrak
Akibat adanya pandemi virus Corona yang disebut COVID-19, dunia pendidikan ikut terdampak akibatnya. Dengan berlakunya Lock down dan Physical distancing, pada semester genap 2019-2020 pembelajaran dilakukan dari rumah dengan menggunakan bantuan teknologi internet.  Hampir semua sekolah melakukan hal yang sama, apalagi Depok yang masuk zona merah dari pandemi COVID19. Siswa dapat hidup sehat dengan adanya sarana prasarana di rumah masing-masing, misalkan untuk cuci tangan menggunakan sabun dan air mengalir. Setelah pandemi kebiasan hidup sehat harus tetap dilanjutkan. Pembelajaran kembali ke model semula yaitu face to face. Sarana prasarana PHBS harus disiapkan disekolah. Program studi Telekomunikasi Jurusan Teknik Elektro menawarkan membuat tempat cuci tangan atau wastafel  di Madrasah Ibtidaiyah Muhammadiyah 1 Beji Timur sebagai mitra pelaksanaan pengabdian kepada masyarakat program studi. Wastafel dipasang di depan kelas dilengkapi dengan keran air dan pembuangan air yang benar. Untuk menerapkan keilmuannya dalam bidang teknik elektro, pelaksanaan pengabdian kepada masyarakat berbasis program studi Telekomunikasi ini dibuat keran otomatis menggunakan sensor infra red berbasis mikrokontroler Atmega 328p. Dengan keran otomatis ini jika ingin mencuci tangan cukup dekatkan tangannya kepada sensor, dan otomatis air akan keluar. Jika tangan dijauhkan dari sensor otomatis air akan berhenti mengalir. Jadi tidak perlu untuk membuka keran secara manual.  
Kata Kunci –covid, keran otomatis, PHBS, wastafel.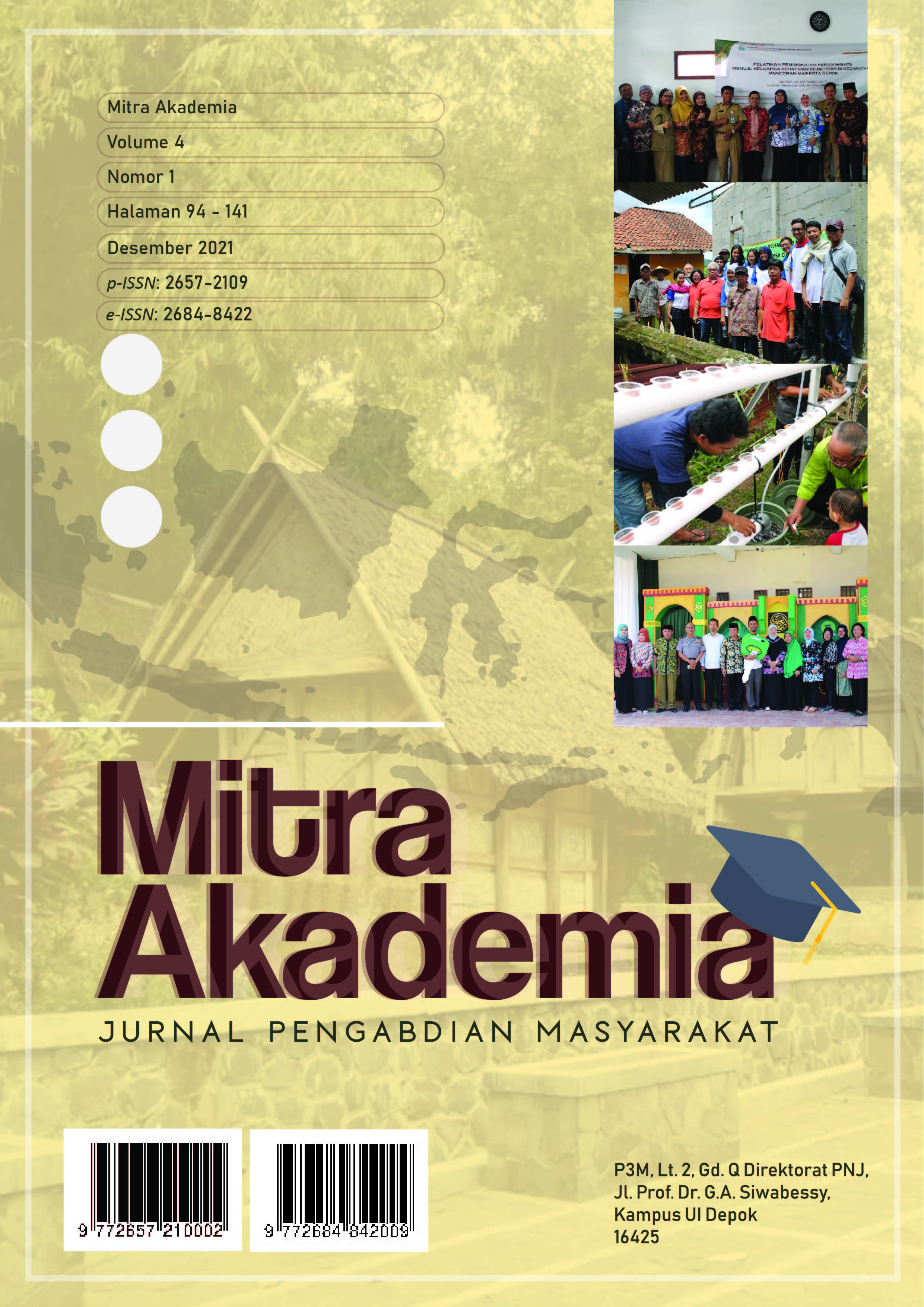 Downloads
License
Copyright (c) 2021 Mitra Akademia
This work is licensed under a Creative Commons Attribution-ShareAlike 4.0 International License.