PENINGKATAN KETERAMPILAN USAHA DAN PEMBUKUAN UNTUK USAHA MIKRO JAMU TRADISIONAL DI WILAYAH BOGOR
Abstract
Abstract
Bookkeeping financial transactions are significant for a business. Micro enterprises are overgrowing in society but have weaknesses in developing business processes, recording, and financial accounting transactions. This activity aims to provide training and assistance for business development and simple bookkeeping to micro-business managers, mainly traditional herbal medicine entrepreneurs, as activity partners. Through community service activities, the Diploma 4 Program of Accounting Department of Politeknik Negeri Jakarta seeks to improve the micro-business manager's ability and expecting to have an impact on improving the economic quality of the community in the activity partner areas. This activity expects to provide benefits for activity partners and study programs related to curriculum development to develop student's teaching materials. Implementing activities is in the form of training and assistance to activity partners to provide optimal results for improving the community's economy. -Sample of twenty micro-businesses selected as participants in the activity. The training is in the form of lectures and practicum, accompanied by consultation and assistance. The results of this activity are in the way of a simple business guide and bookkeeping that can be understood by activity partners.
Keywords --small/micro enterprises, jamu/herbal, develop, bookkeeping
Abstrak
Pembukuan transaksi keuangan merupakan hal yang sangat penting bagi suatu usaha.  Usaha mikro sangat berkembang pesat di masyarakat tetapi memiliki kelemahan dalam pengembangan proses usaha, pencatatan dan pembukuan transaksi keuangan. Tujuan kegiatan ini adalah untuk memberikan pelatihan dan pendampingan atas pengembangan usaha dan pembukuan sederhana kepada pengelola usaha mikro terutama para pengusaha jamu tradisional sebagai mitra kegiatan.  Kegiatan ini diharapkan dapat memberikan manfaat bagi mitra kegiatan dan bagi program studi terkait pengembangan kurikulum dalam bentuk pengembangan materi ajar kepada mahasiswa. Metode pelaksanaan kegiatan dalam bentuk pelatihan dan pendampingan kepada mitra kegiatan sehingga dapat memberikan hasil optimal untuk peningkatan ekonomi masyarakat.  Pada pelaksanaan kegiatan dihadiri sejumlah dua puluh orang peserta kegiatan yang terdiri dari anggota masyarakat dan pengusaha mikro jamu tradisional. Pelaksanaan kegiatan dalam bentuk ceramah dan praktikum disertai dengan konsultasi dan pendampingan. Hasil dari kegiatan ini berupa panduan usaha dan pembukuan yang sederhana yang dapat dipahami oleh mitra kegiatan.
Kata Kunci –usaha kecil/mikro, jamu, pengembangan, pembukuan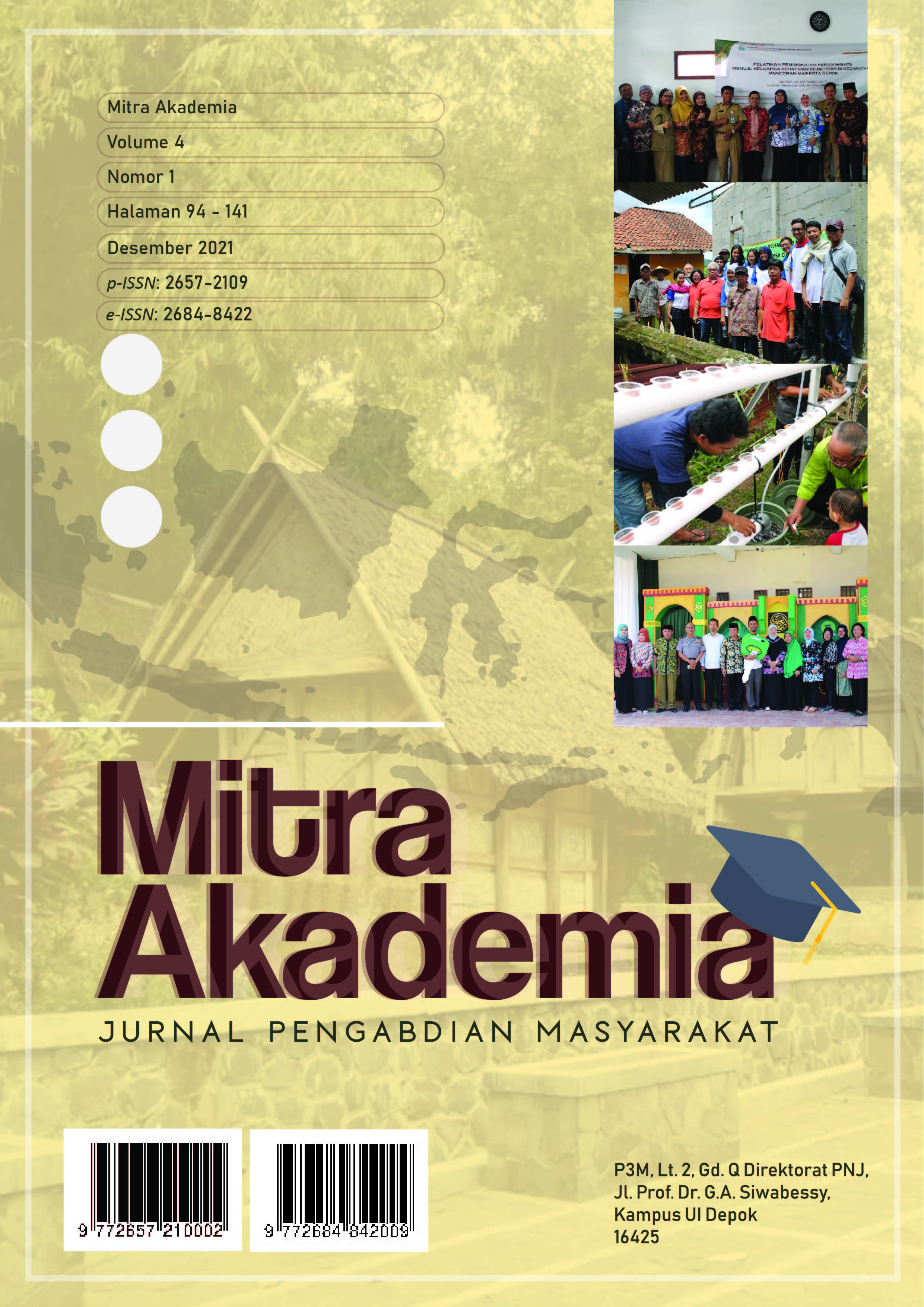 Downloads
License
Copyright (c) 2021 Mitra Akademia
This work is licensed under a Creative Commons Attribution-ShareAlike 4.0 International License.