A B C D E F G H I J K L M N O P Q R S T U V W X Y Z All
Mitra Akademia
View Journal | Current Issue | Register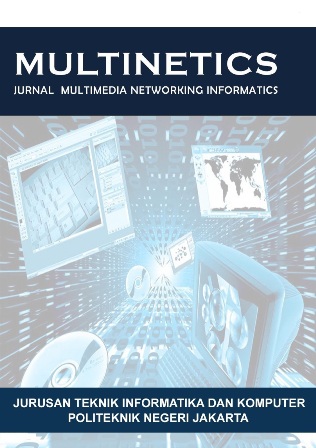 MULTINETICS
Jurnal Multimedia Networking Informatics
ISSN 2443-2245 (print) 2443-2334 (online)
This journal is published by the Department of Computer and Informatics Engineering, Politeknik Negeri Jakarta. Multinetics is billingual (Indonesia or English) and first published on May 2015. It is a peer-reviewed journal publishing twice a year (May and November). It aims to provide a forum exchange and an interface between researchers and practitioners. It strengthen academic exchange with other institutions in the area of multimedia, networking and informatics engineering related field. It also encourages scientist, practicing engineers, and others to conduct research and other similar activities. This journal encompasses original research articles and review articles.
The scope topics include, but are not limited to: Software Engineering, Information System, Computer Science, Computational Intelligence, Agent System and Multi-Agent Systems, Analysis & Design of Information System, Artificial Intelligence, Big Data and Data Mining, Cloud & Grid Computing, Cryptography, Decision Support System, DNA Computing, E-Government, E-Business, E-Learning, Embedded System, Enterprise System, Human Computer Interaction, Image Processing & Computer Vision, Informatics Theory, Security, Multimedia system, Animation, Game, Mobile Computing & Applications, Natural Language Processing, Network & Data Communications, Open Source System, Semantic Web, Social Networking & Application, Soft Computing, Software Entrepreneurship, Web Engineering, and Wireless Communication.
We are pleased to invite you to submit your own work through online system submission.
View Journal | Current Issue | Register
1 - 2 of 2 Items